Anmerkung für Webmaster: Bitte setzt Eure Links auf diese HTML-Seite anstatt direkt auf die Datei. Danke.
Note for webmasters: Please link to this HTML-page, rather than the file directly. Thanks.
aTuner is an easy-to-use tweak-tool for GeForce-, Quadro- and Radeon-graphiccards.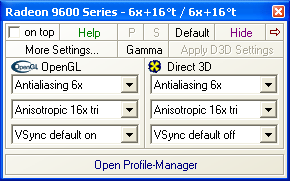 System-Requirements: Please read before downloading
Any GeForce, Quadro or Radeon (up to 1950 XT) must be the primary display adaptor.
Supported are Windows 2000 and XP.
For GeForce1 and 2, and for Radeon up to 9200, aTuner offers base support. For GeForce3, 4 Ti and FX are additional options. For Radeons, modelnumbers with 9500+ can take full advantage aTuner.
The modifications from Omegacorner are supported at this time. ONLY official drivers directly from Nvidia and ATI are supported. It's a matter of luck, if vendor-specific or otherwise modified drivers are working with aTuner.
Problems with the download?? Please read this Posting .
This aTuner-version is NOT compatible with ATI's new CCC. Use this aTuner-version with Radeon only with the common (or without any) Control Panel.
If you uprade to aTuner 1.9.60 or higherfrom a lower version, please read this post before you install the new aTuner.
| | |
| --- | --- |
| Current stable version: | aTuner 1.9.85.18048 for Windows 2000/XP |
| for Detonator/Forceware: | 23.11 – 180.48 |
| and for Catalyst | 3.0 – 7.1* (not with CCC) (*not fully tested with Cat 7.1) |

[4] aTuner Download (ca. 680 kiB) [4]
Changes of the current version::
Improved detection of GeForce 9 cards
Last aTuner news:
This is one of the last aTuner updates.
Known Problems:
After fresh driver's installation: It can happens, that the options are "jumping back". If this occurr, apply the "Default"-Button, end aTuner and start it again. If the problem persists, go to the driver's control panel and set the options to any user-defined setting, and check if aTuner now works properly.
nView or Windows Dual-Monitoring: aTuner should be closed by the user, before another screen is activated or deactivated. Since Forceware, you can try to just rightclick on the aTuner monitor-buttons ("P", "S") and a menu will appear. With this menu you can force aTuner to detect the new monitor configuration without an explicit close and restart of the tool.
Zoomed Fonts: All current aTuner-versions offer a workaround. Please look in the aTuner-folder for the "zoom.txt"-file.
Features:
Full hardware- and driver-detection
Support of any common 3D-hardware from ATI and Nvidia
Supports up to two monitors on an Nvidia-card via Windows dualmonitoring, TwinView and nView.
Shows all important 3D quality-settings in a single window
Support of the un-official modes, too
Shows the most important settings even in the tooltip from the systray
Easy-to-use alteration of all Bequeme Änderung aller relevant tweak-optionen without to have much click-around
Self-explaining usage
Does not unnecessarily writes in the registry, but offers a log of all write-actions into the registry.
Profil-Managment
Game-Launcher
Sys-Info with focus on display devices
Designed to be friendly to other tweakers, like RivaTuner
Regular support through the author (fast adaption for new drivers)
Freeware
Further informations:
You have further questions? Our forum [7] is the right place.
Verweise:
[1] http://www.3dcenter.org/atuner
[2] http://www.forum-3dcenter.org/vbulletin/showthread.php?p=1645622
[3] http://www.forum-3dcenter.org/vbulletin/showthread.php?p=4971974
[4] http://www.3dcenter.org/dateien/dateien/atuner/aTuner_19_85_18048.exe
[5] http://www.3dcenter.org/atuner-faq-en
[6] http://www.3dcenter.org/atuner-faq2-en
[7] http://www.forum-3dcenter.org/vbulletin/forumdisplay.php?f=10